Address
Telenor Pakistan Private Limited,
345 Campus, 55, River View Avenue,
Block B, Gulberg Greens,
Islamabad 44000,
Pakistan

View map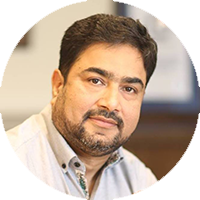 CEO
Khurrum Ashfaque
Telenor in Pakistan is the country's second largest mobile operator, offering voice and data services to primarily prepaid customers.
Telenor Pakistan is a wholly-owned subsidiary of Telenor. The company was awarded a GSM licence in 2004, enabling it to build and operate a mobile network in Pakistan. Commercial services launched in 2005, and the company has since then been contributing to the sustainable development and empowerment of society through connectivity.
In Pakistan, Telenor operates a mobile-only business in a market dominated by prepaid subscriptions. Telenor Pakistan holds the number two position in the market, with around 26,2% subscription market share and 49,4 million subscriptions at the end of 2021. Details on the spectrum portfolio can be found here.
0
mobile subscriptions (2021)
0
total revenues NOK (2021)
0
monthly mobile ARPU in NOK (2021)
Key figures
| NOK in million | 2016 | 2017 | 2018 | 2019 | 2020 | 2021 |
| --- | --- | --- | --- | --- | --- | --- |
| Revenues | 7,698 | 8,181 | 7,492 | 6,232 | 5,880 | 5,604 |
| EBITDA before other items | 3,441 | 4,204 | 4,296 | 2,780 | 3,167 | 2,976 |
| Mobile subscribers ('000) | 39,428 | 41,625 | 43,530 | 45,389 | 47,240 | 49,125 |