Ingrid's Open Mind
8 minute read
Include
Enabling participation for all
Include means that Telenor is committed to equality, by enabling connectivity for all and driving greater societal inclusion through it.
From recruit to leader of Telenor Open Mind in just one year, Ingrid Ihme's story is one of rapid progress and many mountains climbed. And it all begins on a Norwegian farmstead.
Wind and beauty are two things Ingrid Ihme knows a bit about. Born and raised on a farm in the charmingly white-washed coastal town of Mandal on Norway's extreme southern tip, Ingrid spent childhood summers enjoying all the aesthetically renowned landscape her home had to offer. "Mandal is known for its harsh winds, so naturally, I especially enjoyed the summers – beaches and boats," she remembers. Beaches and boats, however, still had to make time for hard work.
The farm on which Ingrid was raised has been in her family for hundreds of years, and though her parents had busy careers (her mother was a teacher, her father an engineer), this point of family pride demanded attention; not that Ingrid seems to have minded. "I learned a lot from growing up on a farm. Thinking back to the days when everybody joined hands to get the harvesting done, though we had machines to help a great deal." Today, Ingrid's parents are enjoying their retirement at a more modest pace. For Ingrid, though, the farming life may not yet be over: she has promised her father she'll take over one day.
Law becomes history
Despite its attractions Mandal is, as Ingrid puts it, 'a small town'. At 19, ambitious to study and develop, Ingrid moved to Oslo to study law. It didn't last long. "Shortly after, I got bored with law and switched to study history of ideas and then history of religion at the University of Oslo."
It was during her time at university that Ingrid met and mixed with other people using wheelchairs. "I didn't know other wheelchair users from Mandal", she says. "These new connections and friends made me aware of all the barriers and issues when it comes to universal design and accessibility. I also realized what implications this would have for me when entering the labour market."
With that stark realisation Ingrid joined a NGO for people with muscular disorders, Foreningen For Muskelsykke (The Association for Muscle Disease) or FFM. It was a career-defining move. "During my time at the university, a friend form FFM was a participant in the Telenor Open Mind program. He spoke very highly of it and told me to apply." Apply she did, and the rest is history. Ingrid joined Telenor Open Mind in 1996. Just one year later, she was leading the programme.
Starting a new job, for Ingrid, was different than for most. Due to a neuromuscular disease she has used a wheelchair since 1992. It's an experience that many could understandably find overwhelming. For Ingrid, a woman from a hard-working farming background with an obvious penchant for leadership and no stranger to challenges, it was motivation. "When I started in Open Mind, I met many who had struggled for long periods with finding work because of their disabilities, though perfectly capable of working and wanting to. I decided to help create a brighter future, opening the doors for all who wanted to work."
Being a leader wasn't something Ingrid was expecting, or even planning for. "I had never really dreamt of becoming a leader. At the same time, I understood that an equally important part of my job is to be a role model." No surprise, then, that Ingrid's favourite part the job is meeting new recruits and feeding off their energy. In the end, though, she believes that they deserve the credit. "They have done all the good work; we've simply opened new doors for them."
Not everything, however, is sunny-side-up and Ingrid is all too aware of the challenges that stubbornly remain for people with disabilities. Universal design (accessibility to buildings and transportation, for example), Ingrid notes, "poses a great threat to enabling people with disabilities to work within the ordinary labour market." Similarly, the stigma that hovers frustratingly around mental health illnesses remains difficult to shake, despite recent progress. It's difficult for leaders to talk about, Ingrid reflects, and willingness to discuss the topic openly remains lacking.
Daunted much?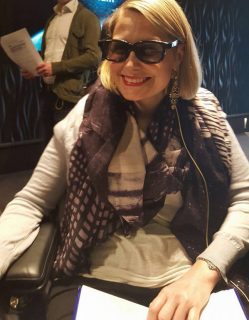 Is Ingrid daunted? Short answer: nope. "I see many possibilities in the modern labour market with technological innovations, but in order to get more people with disabilities into work, it is crucial that companies open their doors to this group." Open Mind is one way she sees this happening. Another is through bodies such as the The International Labour Organization (ILO). "The purpose with the ILO's network is to get disabled people to work by connecting member companies. Companies listen to each other and by connecting them the ILO network creates a better hiring culture for all."
For Ingrid, there is one sure-fire way to help make that a reality. "My biggest dream would be to see a similar Open Mind programme in all countries of the world."
We can't think of a better person to make it happen. The farming life may just have to wait.